12 Short Stories and Their Making

Including "Never Marry a Mexican" by Sandra Cisneros, "The Story of My Life" by Kim Edwards, "A Record As Long As Your Arm" by George Garrett, "Rich" by Ellen Gilchrist, "Dream Children" by Gail Godwin, "Condolences to Everyone of Us" by Allan Gurganus, "China" by Charles Johnson, "The Hoaxer" by Walter Kirn, "The Third and Final Continent" by Jhumpa Lahiri, "Sur" by Ursula K. Le Guin, "Prowler" by Elizabeth Tallent, & "Smorgasbord" by Tobias Wolff—plus author interviews about the crafting of each story.

Sandra Cisneros discusses creating her story "Never Marry a Mexican": I remember when I was writing it that I let myself think or say anything that I liked, that I had absolute freedom to say or think the unthinkable.... It really did feel like I was letting loose the bats and monsters and owls and ugly things that were in my psyche with this story. It really was a story that took a lot out of me to write. I felt exhausted. I was writing very, very late and falling asleep with my clothes on. And I had nightmares....

Tobias Wolff discusses "Smorgasbord" and the narrator's use of retrospect: It is one of the great questions in choosing point of view: From what vantage are you going to tell the story? Can you tell it from more than one point of view in time? Can you have multiple levels of time at work? And obviously, the simultaneity of these two different periods in this narrator's life is part of what makes the story. It does make the story. I don't think you really have a story without that older narrator. You have an anecdote, but you don't sense the consequences of these events, and the consequences on his character—which is the reason to tell the story at all....

Allan Gurganus discusses mentors: Cheever said either one of two things about any new story I risked showing him: Yes or No. When he liked something, I felt giddy and fulfilled and godly. When he said No, I had no idea what was wrong with it; therefore I thought something hideous must be wrong with me. He was not a conventional how-to teacher.

Gore Vidal, age 17, on Fate: It was on Thursday, the 8th of August, that my bosom friend Geoffrey told me he was a were-wolf. He was calm; there was a look of oppressive sanity in his eyes, and a feeling of comfortable security in his receding hair line. This was not a mad man, and yet it could not be a were-wolf. I giggled in a hideously strangled voice, and said something like "well, what a funny world it is." I am not at my best in a crisis.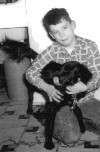 Stephen King, age 9, on Work: Jhonathan, being a smart boy knew he better ask the King for work. But, as luck would have it, the king was in a very bad mood that day. So he vented his mood on Jhonathan. "On yonder Mountain there are three witches. If you can kill them, I will give you 5,000 crowns. If you cannot do it I will have your head! You have 20 days." With this he dismissed Jhonathan. Now what am I to do? thought Jhonathan. Well I shall try.

Margaret Atwood, age 16 or 17, on Feminism: I smoke cigars. Mind you, I don't publicize the fact. There are many arguments against women smoking cigars. I have heard them all, and have concluded that they are, without exception, weak, inconclusive, and based on the shaky foundation of conformity. Most people contend smoking cigars is unfeminine; it is hardly worth the space to point out that short skirts, short hair, and short marriages, all established facets of present society, were once frowned upon. My little weakness is held to be "something that just isn't done." But it is done. I do it.


Norman Mailer, age 10, on Foreign Affairs: The captives waited half an hour before they heard a thing. Then a part of the ceeling slowly began to move toward the floor. On it was a big Martian who with a big stick kept hitting it on his chair making an eerie sound. Then to the surprise of all he said, "Welcome friends to our country." Bob gasped in amazement and the thought ran through his mind how did he know English.

Gail Godwin, age 14, on Religion: Some of the other second-graders had whispered to Nancy that Mother Blanche had two extra eyes in the back of her head and that even when she appeared to have her back to you she was really just watching you out of those other eyes which were hidden cleverly behind the crisp black veil. And then Nancy had been caught talking to Barbara Van Amm, as the class marched in from recess. Nancy knew you weren't supposed to talk in line. Nobody could have possibly heard her. But Mother Blanche of the four eyes and supersensitive hearing had heard. "You there!" she announced dolefully. "No recess for you tomorrow, Lady Chatterbox."

Maxine Hong Kingston, age 14, on Manners: People just leave their man-ners at home when they come to dances it seems. They come & show off—and act up—even people that I used to think were at least O.K.—Priscilla heard some-one make remarks about my pigtails. Hope we never give another dance again—never, never,never, never!!!!!!!

John Updike, age 14, on Death: Walt Haldemans body was slumped over in a chair, and a large knife was stuck in his back, below and to the left of the nape of the neck. He was sitting in the most com-fortable chair in the room, facing the French Win-dows and the garden. There was very little blood.